Update!
Sophie has found her forever home!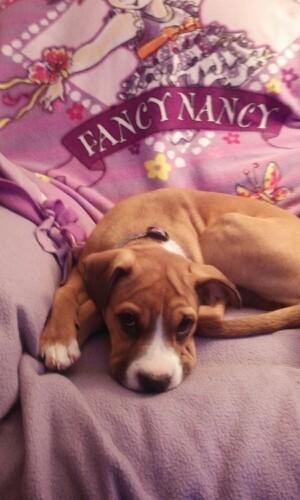 Sophie just recently joined Making A Difference Rescue.
She was very sick with parvo and we were asked to please help her. With the care of our vets, she has thankfully recovered.
We believe that Sophie is possibly a Boxer mix. We guesstimate that she is around 3 months old.
She is extremely affectionate and loves people, dogs, and even cats. She will be fixed, micro-chipped and vaccinated with age appropriate vaccinations
Please remember we can not adopt out of state because a home visit is a requirement. We require an at home evaluation and screening prior to adoption. We do this to ensure that our animals will go to safe forever homes.
We ask that you please call and inquire whether we are able to travel to your area. If you are interested in providing Sophie a forever home, please fill out our adoption survey here: http://makingadifferencerescue.com/adoption-survey/
This will expedite your inquiry as we are not able to return phone calls or emails during business hours.
If you would like to donate towards her medical bills, please go to http://makingadifferencerescue.com/donate/
All donations are tax deductible.
Thank you!