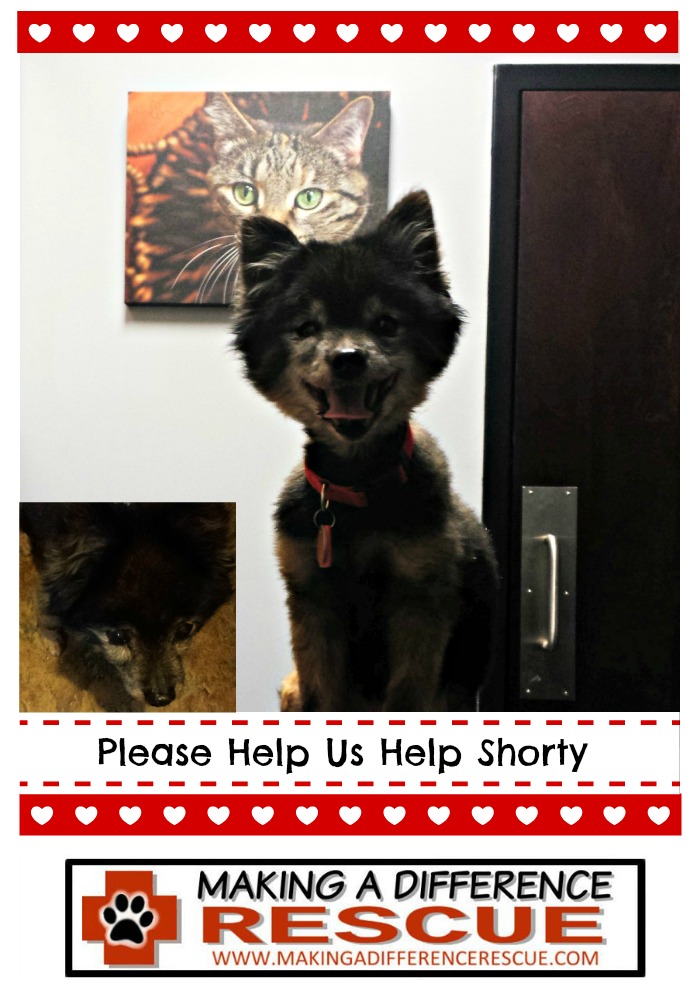 Shorty is a 15 year old Pomeranian that was surrendered to a local kill facility in late June of 2014. At 15 years old, he is still feisty, happy and full of energy. He can run up and down stairs and has proven to get along with dogs of all sizes, cats, children and people.
We as a rescue have been shocked that applicants have withdrawn their applications because he is still full of life and mobile.
On 1/4/16, Shorty developed a large swelling under his right eye. We brought him into our vet and discovered that he had a Carnassial Tooth Abscess in the 4th premolar. His back teeth are fused together by tartar build up. This is extensive and major surgery, especially for a dog of his age.
He had one round of blood panel and urinalysis and the vet has placed him on 2 weeks antibiotics to prepare him for surgery. He will then be subjected to another round of blood tests and xrays to be sure that is heart is not enlarged because he has a slight heart murmur. These need to be performed in order to ensure his survival.
We'd like to ask for your help.
Making A Difference Rescue is a Non-Profit Organization
that is funded solely by donations made by the public.
We are a 501(c)3 and all donations are tax deductible.
We have several fundraisers set up.
Snap It Forward has generously set up a page to donate 35% of their jewelry sales to our rescue to help.
https://www.facebook.com/events/168285950193570/
We will also be featured at the BarkBox Comedy event on January 21, 2016 at Chicago Party Animals Loft Venue.
https://www.facebook.com/events/1002274256501678/
You may also donate here.
http://fnd.us/c/d15iY2/sh/5NRue
or here
https://www.facebook.com/Makingadifferen…/…/128953167177144/
Thank you.